Transfer Mac Mail to Outlook Pc and Mac by Converting the Data Quickly
Using an Advanced Email Migration Tool Export Mac Mail to Outlook Pc or Mac.
Looking to transfer Mac Mail to Outlook Pc / Mac, you've come to the right place. The method described below is the best one available on web.
Let's take a look.
First of all, there is no direct way to export mac mail to Outlook Pc or Mac. Both email clients work on different platforms (Mac and windows respectively). So, unless your data is stored on servers, you cannot use any in-built feature of Outlook or Apple Mail to transfer the data in any way.
The only option is to back up your emails from Mac Mail into .MBOX file, use a third party file converter to convert it into PST file, and then import that PST file back to Windows Outlook.
At least, from the general sentiment of most of the users, this is the only option. Which is quite unfortunate because most of the .MBOX to .PST converters fail to offer a proper way of conversion. They can be quite bad in dealing with this complex task.
What is the better method?
'Mail Extractor Pro' from USL Software has crushed the common notion that to transfer Mac mail to Outlook you can only convert .MBOX to .PST using the file converters. 'Mail Extractor Pro' has a modern logic to offer you a new, unique, and totally effective solution to get this done for you, with an unparalleled level of precision and professionalism.
So, what does "Mail Extractor Pro" does that other tools for importing Mac Mail into Outlook cannot?
It allows you to directly load the email data from Mac Mail database. This database is called identity of Mac Mail. The folder is stored in your users' library. But the point is that you don't need manually need to look for this folder. Simply choose the 'Auto-load' option and the tool gets it done for you. Using precise algorithms, the tool manages to get your entire database up for conversion, without missing or overlooking any item. The precision of your data exporting project will surprise you.
Transfer Mac Mail to Outlook Pc and Mac – Zero Hassle
USL Software has also enabled few modern features that no one else has provided yet: –
It supports the conversion of UTF-8 or UNICODE text thoroughly. Most tools for importing Mac Mail into Outlook can only support ASCII encoded text (English).
There are full protection protocols that ensures the safety of your data. You can be peaceful in knowing the tool won't corrupt your original Apple Mail data or the converted PST files in any way.
Importing Apple Mail into Outlook is also infamous for losing the folder hierarchy. 'Mail Extractor Pro' has a multi-phase scanning design that ensures no folders are mis-matched. The folder hierarchy remains exactly the same in output PST files as was in original Mail folder.
There is also the custom traditional method to convert MBOX files. Although, this is not recommended over the auto-load approach. But it can be useful in many situations, where has no other option other than converting MBOX to PST. This can also be useful if you are converting multiple users' data in your computer. In that case, 'Mail Extractor Pro' proves to be priceless, since it offers batch conversion without compromising with the quality of the conversion.
Give it a go now. The free trial conversion converts ten items per folder. You get to check out all the features within that structure. There is also 24×7 customer support to get you through any unseen setbacks.
This is the quickest, most accurate, and safest way to transfer Mac Mail to Outlook Pc or Mac.
Export Mac Mail to Outlook Pc Windows and Mac System
Mail Extractor Pro is our most popular program for converting Apple Mail, EMLX & MBOX file to PST file format for Mac Outlook 2011 / 2016 and Windows Pc Outlook 2016 / 2013 / 2010 / 2007 / 2003.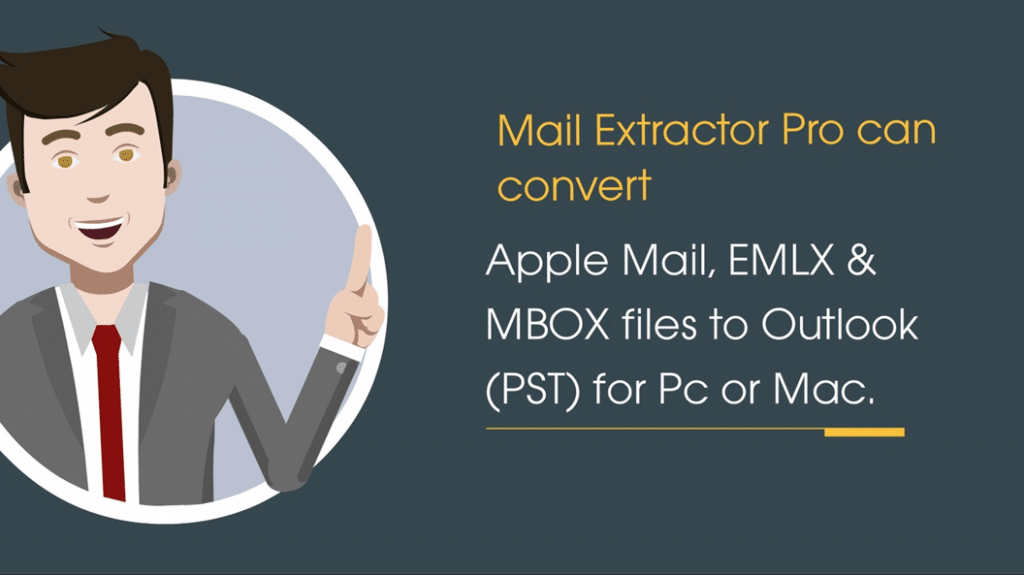 Try Mail Extractor Pro to export Mac Mail to Outlook Pc or Mac.