"Rules" in Outlook allow you to automatically make Outlook behave a certain way depending on what conditions are satisfied for the mails or even other items like appointments and reminders. It's a convenient way to auto-pilot a lot of your work flow in Outlook and helps you focus more on your actual work rather than messing with the emails trying to organize them and keep getting distracted by them.
Here's one typical example of the client side rules in Outlook: move all incoming messages that contain the words "tax" and "return" into the "Finance" folder, but before doing so, show a notification with a custom sound so you don't miss these emails.
There's practically no limit to what kind of a rules you can create and what kind of actions you can set when the conditions are met.
Client Side Rule in Outlook Windows
There are two different types of rules: one is the universally applied rule that will work on Outlook and on your email account server in the same way. Another type of a rule is a client-only rule, which means the rule will only work in your Outlook. When you create such a rule (either the conditions to look for or the actions to take), Outlook will give you a warning saying that it will only work when you check your email in Outlook.
This is what it means by the client side rule in Outlook Windows.
One obvious example of a client-side rule would be to print an email. It won't work when Outlook is not running on your computer.
Also note that any email account that's not using Exchange server can only have client-side rules, not server-side rules. So, all rules created for providers like Gmail are only client-side.
You can go to Rules -> Manage rules and alerts -> and then next to each rule, Outlook will show you if it's just a client-side rule or not. If there's nothing next to the name of the rule, that means it works on both client and server.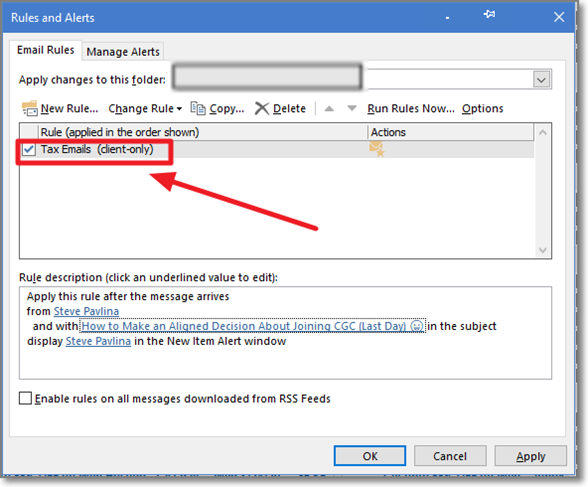 Errors and Fixes
Sometimes, you will get this error with client-only rules: The rules on this computer do not match the rules on Microsoft Exchange. Only one set of rules can be kept. You will usually want to keep the rules on the server. Which rules do you want to keep?
This error comes up when you create a rule with 20 more contacts in your global address list.
But, nothing to worry about. Even though, there is no official fix to this error, there is however a quick solution. Instead of adding individual contacts if more than 20, you can add a distribution list. Simply create a new distribution list and add those contacts to this list that you want to create a rule for. This only needs to be done if your rule has more than 20 contacts. Then, when creating a rule (or editing previous rules), remove all the contacts and select the distribution list in the "from" category.
Another solution is to create the copy of the rule and then modify both copies to keep the number of contacts less than 20.
For example, if you have total 21 contacts added for your client-only rule, you can create a copy of the rule. Keep only 19 contacts in the original rule and then add the remaining two contacts in the "copy." This way the error will not occur, even if the rule is only for the client.
We hope the article helps you in understanding the rules in Outlook, and more importantly what are the client-side rules and how you can fix the annoying issue that happens when you have a rule for more than 20 contacts under a single rule.