EML converter wizard, today we will discuss a note-worthy tool – Mail Extractor Pro – for all your conversion needs regarding EML, MBOX, Apple Mail, Thunderbird, and Postbox conversion to Outlook compatible PST files. The software is built with finesse such that all kinds of files with any range of content inside them can be quickly and safely processed for PST. It works with fast speed, has no bugs, and is user-friendly to use.
EML Converter Wizard Based Tool
For this post, we are only focused on Mail Extractor Pro as EML converter wizard, but just note that it also converts other file formats mentioned above.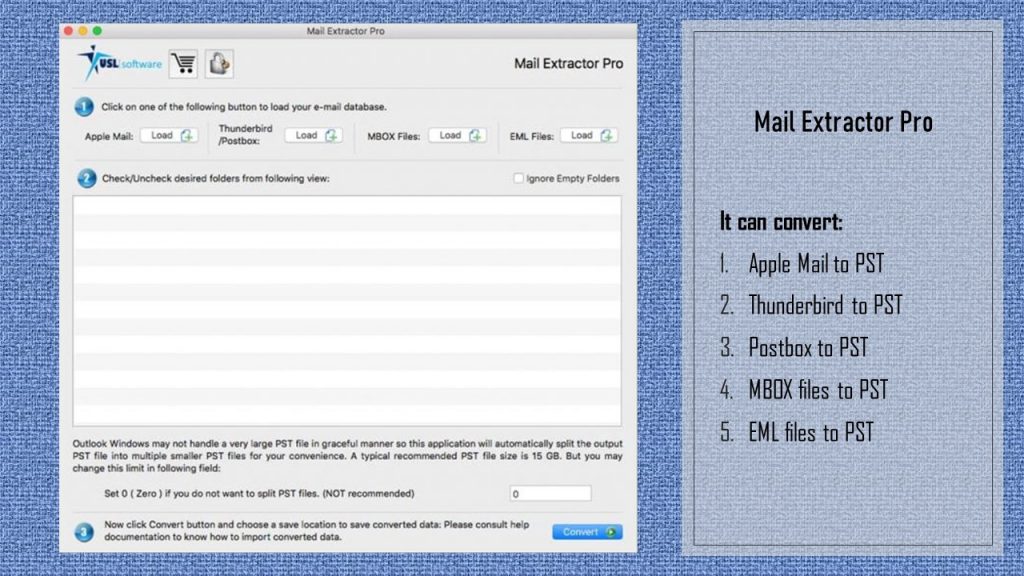 Smart UI & Powerful
As an EML converter wizard, it has certain qualities that makes it so different from other ordinary wizards in the category. First of all, it doesn't narrow the userbase to just high-end users and experts, not to just non-experienced home users. Through very smart UI design and the powerful internal conversion engine, the wizard has managed to keep the appeal intact to users within any range of expertise and skills. You can be a mere household user or work in IT, Mail Extractor Pro works with grace and efficiency just equally in all scenarios.
Let's begin with the interface. When you install and launch it for the first time, you will be greeted with its simple and basic screen that is intuitively understood. Even if this is your first time with EML converter wizard, you will instantly get how it works and what you are required to do, which isn't a lot. All you need to do is load your files for conversion, choose folders within the files you want to convert, and few other optional settings.
Smart Algorithms
As for its internal processing algorithms, Mail Extractor Pro contains highly targeted and precise mechanisms for working with complex email information within the EML files that no other EML converter wizard has. It has natively support for converting Unicode content even from email headers. It can accurately trace the folder hierarchy and keep all folders organized just the way they were originally in EML. All the other details such as graphics, links, nested emails, and attachments are also converted from EML to PST without a single gap or fragmented component.
The optional settings also add to the efficiency and ease of the process and the output, such as:
You can convert multiple EML Files to PST in one go, if you want
You can exclude or uncheck any folders that are not necessary to convert to PST
You can ignore all empty folders in a single click
You can set the limit for how big the PST files can be. Larger ones will be split automatically.
You can also convert Apple Mail and Thunderbird database directly from their Profile/Identity folder without requiring any data files like MBOX
The detailed report at the end will help advanced users to analyze the result. Very helpful if you are an IT Professional tasked with EML to PST conversion
Try out the demo version today. Link is given below.
Mail Extractor Pro is a Mac OS based tool. It is backed up by USL Software responsive and helpful support team that you can get in touch at any time of the day or night. Please note that if you are interested in converting PST to EML (instead of EML to PST), USL Software also offers a similar software tool with similar qualities called PST Extractor Pro. That too has a demo version you can download.