Converting Mbox, Apple Mail, Thunderbird, Postbox database to Pst
Let us help you to convert your emails without any hassle
"Mail Extractor Pro" is a reliable tool to convert Apple Mail, Thunderbird, Postbox & MBOX files to Outlook Pst file. The simple GUI enables users to perform the thorough migration effortlessly.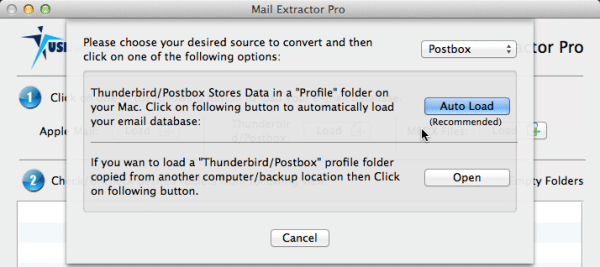 Follow the steps below to convert Apple Mail, Thunderbird, Postbox & MBOX to PSt file format:
Download the "Mail Extractor Pro" Setup. Install it using the simple installation wizard.
Launch it.
For converting MBOX files to PST:
Click on "MBOX files: Load" to convert your MBOX files to PST file format.

Click on "MBOX files: Load" to locate single MBOX file / multiple MBOX files or folder containing MBOX files.
It supports all standard MBOX format for conversion
For converting Apple Mail to PST:
Click on 'Apple Mail: Load', which brings up two choices to load your emails and other items –

Auto Load – Click on "Auto Load" to automatically load your "Mail" folder on your Mac, where the Apple Mail stores all the data.
Open – Click on "Open", locate the Apple Mail Mailbox Export or "mail" folder copied from another computer/back up location.
For converting Thunderbird/Postbox to PST:
Click on 'Thunderbird/Postbox: Load', which gives you three options:

Choose desire source for conversion from drop-down - Thunderbird or Postbox.
Auto Load - It will auto detect your Thunderbird / Postbox Mail Database for conversion.
Open - If you have Thunderbird/Postbox "profile" folder copied, then click Open to locate.
Once the Mail database or Mbox files are loaded, the tool will display the folders inside them.
Check (or uncheck) the folders that you want to include (or exclude) from conversion.
You can also ignore the empty folders by checking the respective box, which will hide all the folders that have no content inside them.
Click "Convert".
Click "Trial" button if you want to continue it as a free trial version. Else, click "register license" to register for the full, paid version.
After that, choose the location to save the converted Pst files. If you want, you can create a new folder to save them. Click "Save" at your desired folder and location.
The conversion will start and will take few minutes depending on the size of the selected Mbox files.
Once the conversions are complete, you can click on 'OK' to finish, or click on "Locate converted Pst" to go to the location directly.
Get new product update by email:
Moving the data from Mac Mail to recently released Outlook 2016 can be a…