The Best MBOX to PST Converter for Mac
Mail Extractor Pro is developed by USL Software to convert Apple Mail, the Thunderbird, the Postbox and Convert MBOX to PST file for Outlook:mac 2019/2016 /Office 365/ 2011 for Mac and Microsoft Windows Outlook Office 365, 2019, 2016, 2013, 2010, 2003, 2007.
Convert MBOX to PST format
If you wish to convert emails from Apple Mail / Thunderbird / Postbox / MBOX to PST format, then Mail Extractor Pro is the answer for you. Some of the notable features of Mail Extractor Pro that makes this exporter the first preference for all users when it comes to MBOX to PST conversions are as following:
Easy to Use GUI
Direct and uncomplicated export of MBOX messages to PST format. You can "Auto Load" to automatic load for the Apple Mail, Thunderbird & Postbox Database and for MBOX you can use "MBOX files: Load".
100% Accurate
Conversion of MBOX file's native encoding alongside the export to PST format. You will get as copy of your original file by preserving your email contents & maintain your folder hierarchy.
Any Size of File
Support for any size of MBOX files to be exported to PST format. Also it has split option, if you large email database to convert into multiple PST file format. You can also convert mbox file in bulk.
The Mail Extractor Pro, we are talking about not only exports & transfers MBOX files to Outlook (PST file) 2019, 2016, 2013, 2010, 2007, 2003 & Office 365 for Windows and Outlook 2019, 2016, 2011 for Mac, but also makes sure the converter accurately exports all metadata information as well from MBOX to PST Format. It is designed to convert Mail database of Apple Mail, Mozilla Thunderbird, the Postbox and MBOX to PST file.
Highlights
Convert Unlimited Accounts
Life Time License
Free Upgrade for Life
24×7 Live Priority Support
Works on Mac
Convert from multiple sources
Fast and Accurate Conversion
Safe and secure conversion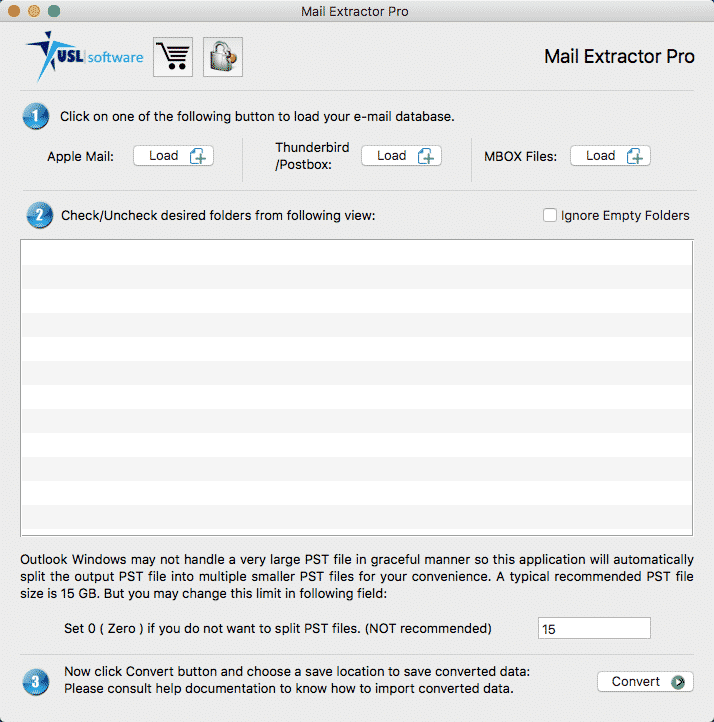 How, 'Mail Extractor Pro' is better than other mbox to pst converter tools?
Direct and uncomplicated export of MBOX data to PST format.
Unlike most other similar solutions available in the market, this MBOX to PST converter requires absolutely no additional tools or any complicated intermediate steps to help convert your data from MBOX format to PST format.
Support Files of Any Size
We do realize that Email storage of today's email clients may grow very large on account of all the important data that needs to get stored on it. Size constraint is not a problem for this MBOX to PST converter, as it can handle export of MBOX files to PST format of any size.
Effortless User Interface
With Mail Extractor Pro, trouble understanding the User interface or the conversion process will never be an issue that you will have to face. Mail Extractor Pro has one of the easiest User interface that makes sure the MBOX to PST conversion process can be handled without any inconvenience.
All Outlook Versions Supported
Mail Extractor Pro supports all versions of Microsoft Outlook, including 32- and 64-bit editions. You won't have to bother about any compatibility issues when using Mail Extractor Pro for your MBOX to PST format.
MBOX to PST Encoding Conversion
The MBOX to PST converter also takes care of the export of MBOX file's native encoding into that of Outlook for Windows PST format. The software performs automatic encoding conversion side by side during the MBOX to PST export process.
In-Built File Splitter
Sometimes Microsoft Outlook does not support large PST file. So we have in-built splitter that helps you to split into multiple PST file as per your requirements.
Nonpareil Customer Support
Providing a premier tool for MBOX to PST file conversion is not the only aim that was kept in mind while creating Mail Extractor Pro. Combining outstanding customer support alongside this leading tool for MBOX to PST Conversion is what we wanted to accomplish and we did.
Conversion Report & Other Options
While converting MBOX to PST you will get preview of your folder structure, select the folders you want to convert and ignore empty folders etc. You will get full conversion report at end of your MBOX to PST conversion.
Free Demo Version – MBOX to PST Converter
You can download the free demo version of this MBOX to PST converter, in just few simple clicks to get a review by yourself about the software. This demo version of MBOX to PST converter helps you to get a complete user experience about the working process of the software by letting you convert first few MBOX files that can include emails, contacts and calendar entries into Outlook PST format free of cost.

Full Version- Mail Extractor Pro
Once you have tried the Demo version of our MBOX to PST converter and are satisfied with the results, we have the full version of the software waiting for you. With the complete version of the software you can access complete conversion with no limits defined upon the number of items to be exported from MBOX format to Outlook PST Format.