Mozilla Thunderbird Export to PST is never easy. The main reason is that Thunderbird doesn't support Outlook PST file format, neither for import nor for export. Also, Windows Outlook doesn't import Thunderbird files, nor MBOX format. So converting Mozilla Thunderbird Export to PST is the only option left.
No problem. While, email file conversion remains a very complex job, with the help of the tool mentioned below, you will get the simplest path to convert Mozilla Thunderbird export to PST.
Mozilla Thunderbird Export to PST for MS Outlook
The main reasons why we have always recommended this tool, in the context of Mozilla Thunderbird Export to PST, even in the context of email migration are:
It is easy to use.
It is quick.
The tool converts data precisely with no fragmentation.
You get 24×7 customer support.
It auto-loads Thunderbird database (no hassle of manually loading files).
It allows splitting larger splitting PST files
Thunderbird is an email client not limited by anything. The third party ad-dons have always even further high functionality. But even the most advanced add-on cannot help you convert Mozilla Thunderbird Export to PST files.
That's the job that only "Mail Extractor Pro" from USL Software can do. It extracts the data accurately using smart algorithms and then converts it back into PST files. The algorithms pick each individual element with sharp precision, including even metadata and anything Thunderbird database might contain.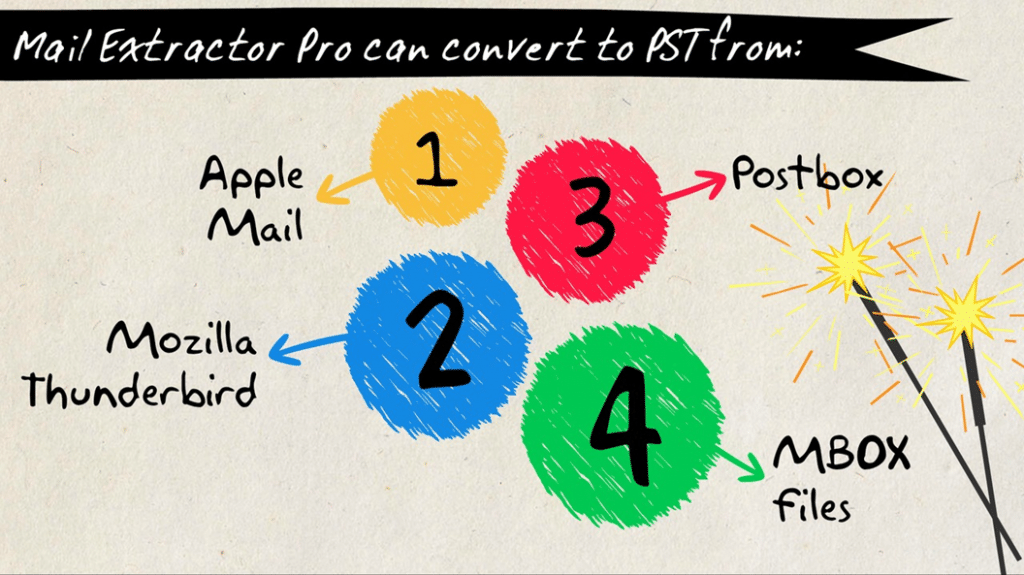 And the best part? There is no need to manually upload files to "Mail Extractor Pro." It can automatically detect your Thunderbird profile folder, gets the contents loaded up, and begins extraction all on its own. Needless to say, it gets the job much quicker than possible before by any other traditional methods. It makes it too easy for even beginners and novice users who aren't technically expert on email migration jobs.
How to use "Mail Extractor Pro"?
As said earlier, it has a very intuitive GUI. So from the moment you launch it for the first time, you'll know what to do. Everything will come naturally to you. To give you an idea, here's what the process looks like:
Launch the tool –> Click on 'Load' next to Thunderbird / Postbox
Click on "Auto load" or "Open" to load Thunderbird Mail Database

Auto Load – Auto detect Thunderbird Mails
Open – To locate Thunderbird Profile folder

You can manually choose the folders for conversion.
Set the maximum file for PST; if crossed, the tool will split the files into smaller ones.
Click on "Convert".
That's pretty much it!
Nothing else. Just follow the wizard and you are good!
Few other noticeable changes in "Mail Extractor Pro" from other ordinary tools are:
It works completely offline. No need for internet connection, as there is no server-side action taking place. No add-on, no external plugin, etc.
The dedicated logic for Thunderbird is unified with the PST file structure to deliver the smooth conversion.
Effective defect-management protocols ensure no information is ever missed or converted inaccurately.
Micro-operations take care of smaller data elements, like metadata, folder hierarchy, and so on.
"Mail Extractor Pro" is fully equipped for dealing with non-English text, Unicode content, or other commonly used encoding standards (UTF-8).
The smart prioritization layers gives you faster conversion speeds without affecting the accuracy.
If you are interested, you can try the free trial copy now. "Mail Extractor Pro" can let you convert Thunderbird export to PST for free, up to ten items within each folder. It's great to give you full evaluation mode to check out how it actually works in action.
Get it for Mozilla Thunderbird Export to PST
You can download it here: https://www.uslsoftware.com/download/mail-extractor-pro/
Tutorial: How to convert Thunderbird to PST
Mail Extractor Pro convert Mozilla Thunderbird, Apple Mail, Postbox and all *.mbox files to PST file format. It can be imported to both Mac Outlook and Windows Outlook. Download today and try with it to convert Mozilla Thunderbird Export to PST.