The Best OLM to PST Converter till Date
'OLM Extractor Max' is the best OLM to PST Converter for Mac and Windows available on web. It has a simple graphical interface for anyone to convert Mac Outlook files (OLM) to Windows Outlook files (PST). On top of that, it also offers multiple other features that you cannot find anywhere else. Such as: filtering the folders containing mails, contacts, or calendar data, merging contacts in default address book per folder, merging the calendar entries in default calendar book, and so on.
It is brought to you by USL Software, the leading company currently in the email migration sphere. They have been offering various software solutions to migrate email data from one client to other. Their approach is often unconventional, but always effective. And they have always been able to eliminate the issues other regular tools never did.
Why do you need an OLM to PST Converter at all?
It can be asked why use an additional software program in the first place? Can't we directly move data from Mac Outlook to Windows Outlook using some in-built feature? After all, they are both 'Outlook' and are built by Microsoft.
Unfortunately, not. If you have stored your data locally (not on servers), you can't simply copy the files to Windows Outlook. First, the file format that Outlook uses to back up data is OLM, and that is not compatible with Windows Outlook.
This leads us to the only option – converting OLM files to PST. And there is no other method than to use third party tools to do that.
What does 'OLM Extractor Max' does different that no other tool does?
It supports batch conversion of OLM files
It supports conversion of text in any language, including Japanese and Chinese (DBCS languages)
It has a simple and basic GUI that anyone can use
It can convert data with 10 times more speed than the typical OLM to PST converters
Preserve email attachments, metadata, SMTP headers, nested messages, and embedded graphical objects from emails
Convert Outlook Mac contacts to Windows Outlook address book.

Also, offers to merge all contacts to default address book per folder

Convert Outlook Mac calendar data to Windows Outlook calendar

Also, offers to merge all calendar entries to the default calendar folder in Windows Outlook

Split large PST files. You can set your own size for the files to split if the limit is crossed during conversion
Option to merge all OLM Files you are converting into one single PST file
Brief conversion report and a detailed in-depth conversion report for the analysis, especially helpful for IT department people in large-scale migration projects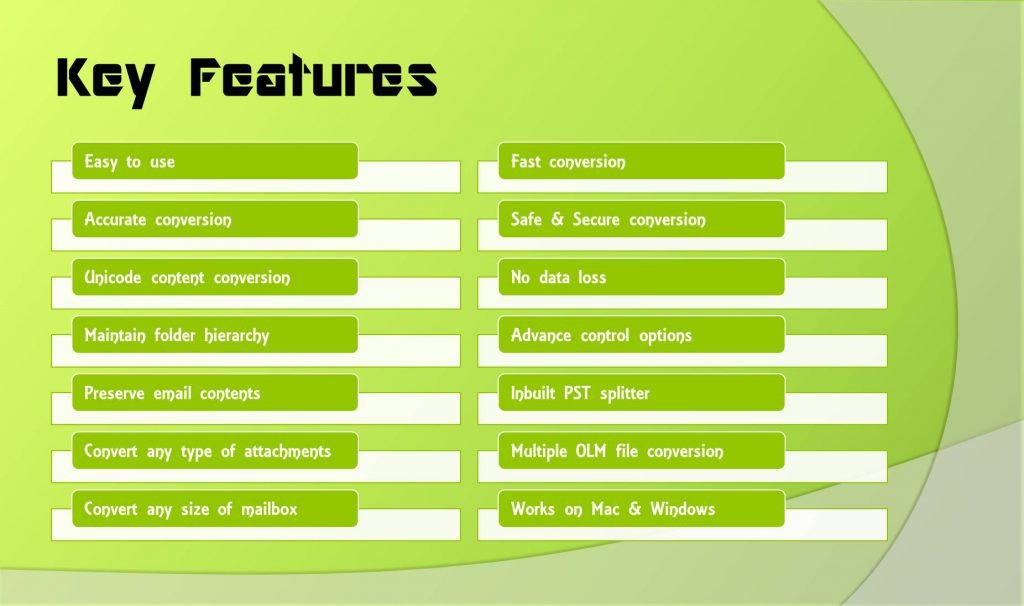 What do these features mean to me?
Most of the OLM to PST Converters are simple the tools to convert the input into output without offering any flexibility. 'OLM Extractor Max' is different. USL Software understands that every user is different and has different needs. Therefore, these various functionalities (Listed above) will help you migrate data with more efficiency and control over your files. They also help you come out of any unseen complications.
For instance, for users with large database, the overly large size of output PST files is inevitable. But the ordinary tools gloss over this issue all the time. With 'OLM Extractor Max,' not only is the size monitored, but an option is given to you to split the large files.
You don't have to use every single feature given above. Most of them are optional. And they do not clutter the interface as well. They are strategically placed so you get the most out of them, without making the process seem complicated.
'OLM Extractor Max' has effectively ended the struggle of email migration between these two clients by allowing users to convert data using all these various options and settings. In spite of that, you can leave it to auto-mode and have everything converted to you automatically, if you want that.
Is there a free version of 'OLM Extractor Max'?
Yes.
'OLM Extractor Max' is available to use in a free mode. You simply download the setup given here, install it like you'd install any other Mac application, and launch it. You are now free to use the tool as it is, without any activation. Keep in mind though that this free mode is especially for trial purpose.
It gives you access to all the features listed above for converting up to 10 items per folder. You can check it out for as long as you want. There is no time limit.
To unlock the limitation of 10 items/folder, you can have any one of the licenses that are available – household, commercial, or enterprise – depending on the number of machines you intend to use the tool.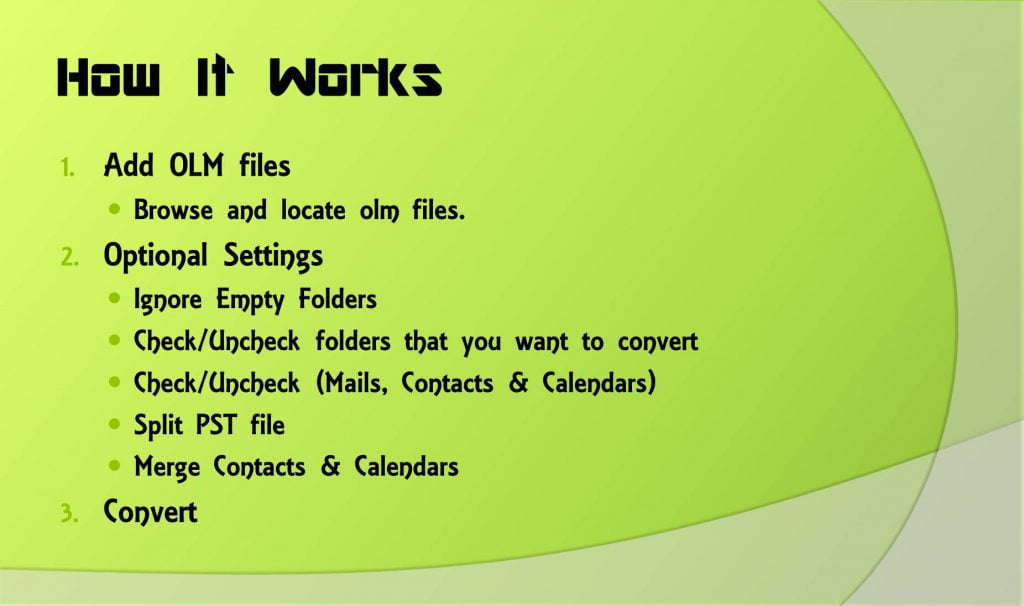 OLM to PST Converter
Lastly, USL Software has been awarded a few times for providing the best tech customer support experience to their users 24×7. So, if you've got any question, are stuck somewhere along the conversion process, have any query, or anything under the sun relating OLM to PST conversion – get in touch now. They will get you through any stuck phase, or resolve your queries in an instant.
Get 'OLM Extractor Max' now and experience the best OLM to PST Converter.