Easy
Easy to use ost to eml converter.
Safe
Safe and secure, No Bug – No Error.
Fast
Super conversion speed, just like copy paste.
Exact
100% Accuracy of ost to eml conversion.
Best OST to EML Converter
Built Upon the Same Excellent Track Record of USL Software!
"OST Extractor Pro" from USL Software is one such application (available for both Mac and Windows OS) that meets the criteria above. It's the perfect solution for your OST to EML conversion needs. And it has by everything that are essential for safe and professional output for email migration.
For Mac and Windows
Available for both Mac and Windows Operating system. Wherever your OST file no issues at all. Now it is Outlook independent.
Accurate Conversion
Convert everything inside OST file with 100% accuracy. No data loss while converting ost file to any other file formats.
Convert to Multiple
Convert OST into multiple file formats. It can convert OST to EML, MBOX, PST, Apple Mail Archive, Thunderbird, Postbox.
Need of OST to EML Converter
OST to EML converter is the most sophisticated category of software applications that come under email migration tools. It can be tricky to pull off for developers due to the intricate job of creating algorithms that ensure zero data integrity loss. Often the converters fail to extract information cleanly, resulting in discontinuities in data and a huge gap between original and output data structure.
This is primarily because of the complex innate nature of both OST and EML files and the difference between them. OST is an internal data file of Windows Outlook. It does mean for manual data-processing tasks. Whereas, EML is a generic data file used by many applications for manual jobs like migration, import/export, backup, etc. It can take a lot of heavy processing to extract contents from OST and convert them into EML without impairing the original architecture of data.
Complex Nature in Both OST and EML
What this means is that traditional OST to EML converter would often leave your output (EML files) with missing items. Items like attachments, images, metadata, headers, folder hierarchy, nested emails, and others are not converted or not converted with accuracy. There would be a huge gap between the nature of data within the OST and EML files.
And besides the usual data-integrity concern, the typical OST to EML converter lack in other aspects of a software application that are essential. For instance, an exceedingly large number of OST to EML converter don't have fitting interfaces for the job of data conversion. It can be a demanding chore even for the IT professionals to go through the UI and interact with all the features in an effective way. And when it comes to email migration tasks like OST to EML conversion, it's of utmost importance that everything should go with accuracy and efficiency otherwise it can be a huge nightmare.
Functionality That You Need
Moreover, a large number of OST to EML converter lack certain functionality. They are simply file converters with no flexibility and no way to personalize the output based on the users' needs and preferences. You wouldn't be able to exclude certain folders that you don't want to convert, or convert files in bulk, or load large OST files, or similar other activities. It can be limiting and frustrating to not have adequate controls, especially with the jobs of this nature.
So, what does this mean? Does it mean that all OST to EML converters are doomed from the start? It certainly means that converting OST to EML files isn't straightforward with the typical converters that are available. But the good news here is that if you have a decent solution offered by reliable source, you can turn this around.
Here's the tool to convert ost to eml
What you want is something that's developed by an experienced team, offering all flexible features and functionalities, an easy interface, powerful algorithms. You can convert data extensively without data integrity loss. It is also 24×7 back up by a support staff.
OST Extractor Pro will recover and convert data from OST file to PST for Mac & Windows Outlook, Apple Mail Archive, Thunderbird, Postbox, MBOX and EML file format.
Such as – user-friendly interface, advanced and dedicated logic for converting each complex components within the files, support for converting non-English items, able to handle large OST files and in bulk, featuring manual option to remove/exclude folders you don't want to convert, fast conversion rate without affecting accuracy, and a dedicated 24×7 support that instantly answers all your queries or assist you in any way that you require assistance for.
One of its most impressive features is the process, the steps that are required for converting OST to EML files. You will have nothing to worry about since most of the actions are automated. Comparing to the traditional approach, here you can convert the files in just few clicks. Most of the unnecessary manual steps have been eliminated.
The UI is intuitive and natural to use. Right from the start after you install it, you'd know what to do. The instructions are clear and simple enough to let even the least-experienced person convert the files like an expert.
Simplify OST to EML Conversion
"OST Extractor Pro" is the only OST to EML converter that is available in both Windows and Mac compatibility option. It's also the only tool that supports conversion of large OST files from all the sources, like Outlook 97 to 2017 edition, Office 365, Exchange and ANSI OST file. And the EML files it convert OST into are also standard files. So you can use easily with all the applications that support EML. It's built in a most clean and standard fashion. You will never have any compatibility issues while converting OST files or while importing EML files to other programs.
"OST Extractor Pro" also lets you convert OST to PST and MBOX files. PST, MBOX, and EML are pretty much the most common files for email compatible in Windows Outlook, Thunderbird, Mac Mail, Windows Live Mail, and many other email clients. Therefore, the tool is your one-in-all solution to get your data from internal OST files into any other email client through generic data files.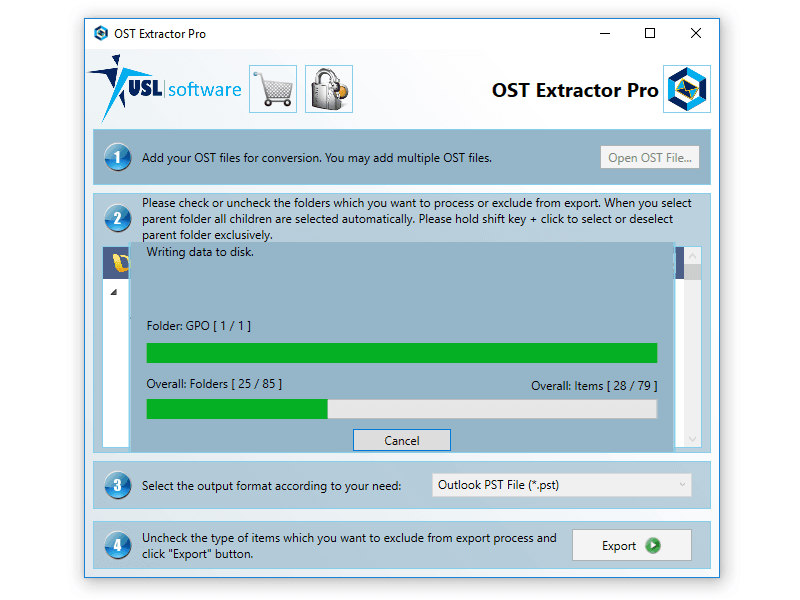 Try OST Extractor Pro Today
You can try out the free demo edition that USL Software offers.
It has no limitation other than that it converts only ten items per folder. You get the access to its full interface with some restriction. So you can evaluate its performance and make up your mind easily without any risk.
Lastly, if you have any trouble using the tool or if you have any other queries, the friendly support staff is ready to help you 24×7.