PST Extractor Pro is our powerful tool that was specifically designed to help you achieve absolute control over your email conversions and to safeguard them so that the users don't have to live in the constant fear of data loss or corruption.
PST Extractor Pro is built for migrating emails, contacts, calendars etc for Microsoft Outlook (PST) to Thunderbird, Postbox, Apple Mail, Entourage Archive 2004 / 2008 (*.rge), MBOX and EML file formats.
PST Extractor Pro is equipped with latest features that make it the most popular email conversion tool among all email users, beginners or advanced.
PST Extractor Pro works on Mac only.
Convert PST to Apple Mail
Migrate *.pst to to Apple Mail, Address Book, Calendars (iCal).
Convert PST to Mozilla Thunderbird
Migrate *.pst to Thunderbird Archive, *.vcf and *.ics.
Convert PST to Entourage
Migrate *.pst to Entourage Archive (*.rge file).
Convert PST to Postbox
Migrate *.pst to Postbox Archive, *.vcf and *.ics.
Convert PST to MBOX
Migrate *.pst to *.mbox, *.vcf and *.ics.
Convert PST to EML
Migrate *.pst to *.eml, *.vcf and *.ics.
Why Should You Choose PST Extractor Pro?
Convert into multiple file format
Convert Microsoft Outlook (PST) to Apple Mail, Entourage, Thunderbird, MBOX, RGE, EML file format.
Preserve all email items, Convert Accurately
It will preserve all your email items while converting your require file format. You will get as is copy.
Maintain your folder hierarchy
It will maintain your folder hierarchy, so you will get exact folder detail in your output file.
Support Unicode contents
It is able to read and preserve even the non-English content. Support conversion of Unicode Contents.
Bug & Error free conversion
Convert your emails without bug or error. You will be safe with us. It will never corrupt corrupt your original file.
Fast Performance
You feel like just copy & paste your files. It does not take much time to convert your large files.
Some of the added features of the PST Extractor Pro are listed below.
PST to Entourage (RGE) Converter
PST Extractor Pro transfers everything that your email client contains. Including the email messages, contact info, calendar events and file attachments etc. You can now easily convert Windows PST files to Entourage archive 2004/2008 without having to worry about the safety of your files.
PST to MBOX Converter
The software allows safely converting Outlook PST emails to MBOX for several email clients. Effective PST to MBOX conversions proves to be immensely beneficial because MBOX is one of the most widely accessible email formats that works with multiple email clients.
If you are looking for PST to MBOX converter, then PST Extractor Pro is the best in this category.
PST to EML Converter
EML is another widely used email format and the PST Extractor Pro allows its users to safely convert PST files to EML format without any effort and also provides maximum security to every file that is transferred.
PST extractor Pro is undeniably the quickest method to convert Outlook PST to EML without modifying the content in any way.
Preserves all attachments and takes special care of nested messages
Attachments are the most important part of emails. The PST extractor Pro is able to preserve all file attachments and it also gives special preference to the nested messages. The software is designed in such a way that nothing is changed except the file format, everything stays at its place.
Bulk PST conversions are smooth and easy
The PST extractor pro is fully sufficient in making safe and smooth bulk conversions without any trouble. The PST extractor pro is able to move huge bundles of PST files to your desired format without any lag or performance issues. You can rely on the batch convert feature if you have to move huge bundles of PST files to any format. PST extractor pro is the one tool that offers everything at one place.
PST to Apple Mail Converter
PST Extractor Pro lets you convert PST files to apple mail with a single mouse click and the whole process doesn't take more than a few seconds to complete. When the conversion process is complete, you can easily locate the files as the PST Extractor Pro preserves the previous data hierarchy and you can access the files without trouble.
PST Extractor Pro is the final solution to solve all your email conversion issues and converting emails with its guidance doesn't seem like work at all.
PST to Thunderbird Converter
PST Extractor Pro lets you convert PST files to Thunderbird Mail Database. You can import the converted data into both Mac Thunderbird and WIndows Thunderbird. It will take care of the every single components of your mail data.
PST to Postbox Converter
PST Extractor Pro converts Microsoft Outlook PST to Postbox file format. It will convert Postbox Mail database including Emails, Contacts, Calendars etc.
Installs easily and highly user friendly GUI
The most distinguished feature of the PST extractor Pro is that it is so simple to install and operate that you don't have to be an advanced user to get accurate results with it. It is the perfect tool for all email users, beginners or advanced.
Preserves Unicode (Non-English) content
This is one of the most desired feature in any email converter as most of the tools do not support any language other than English, but the PST Extractor Pro is able to successfully read and recognize Unicode content so that the originality of the files is maintained and more the reach of the email files is not compromised in any way.
If you are sincerely intent on purchasing a professionally developed and affordable email conversion tool on which you can rely, then you should definitely try PST Extractor Pro.
Try this tool for free by downloading the free demo version to feel the freedom with its high-class performance. If you feel that the tool works for you, go ahead and purchase the easily affordable full version to have full access to absolute freedom in email conversion.
How long have you searched for the perfect PST conversion tool to extract your PST files?
We bring you PST Extractor Pro, which is the most superior software for converting PST files to multiple formats. So let us take a quick look at what email migration is all about and how has it changed over the years.
Earlier email users had to convert their PST files with the manual method of conversion which was very risky and monotonous and only advanced users were able to convert their PST files as they pleased, but that too wasn't completely safe and file loss or data corruption was quite common.
With the advent of third party email tools, the process of email migration changed beyond limits and now we have numerous tools that are there to help us with the PST conversion process.
Have you been on the lookout for the best PST conversion tool but have not succeeded yet?
Most of the email users are found constantly looking for safe and reliable email converters because due to the steep rise in the number of email users, the number of faulty tools is also increasing so the chances of data loss due to defective software is also rising.
There are many tools which are suitable for email conversion, but the users who require optimum safety for their email files, need to convert their files with some assurance which comes with using professionally designed tools.
That is why we developed a superior email conversion tool for the users who want perfection in their email conversions. We designed the PST extractor Pro tool as the best way to convert PST files to your desired format. It is the most efficient tool to convert emails and it comes with a guarantee that none of the emails will be lost or modified during the conversion process.
We are able to provide 100% assurance for the safety of your email files while also providing results that are also 100% accurate.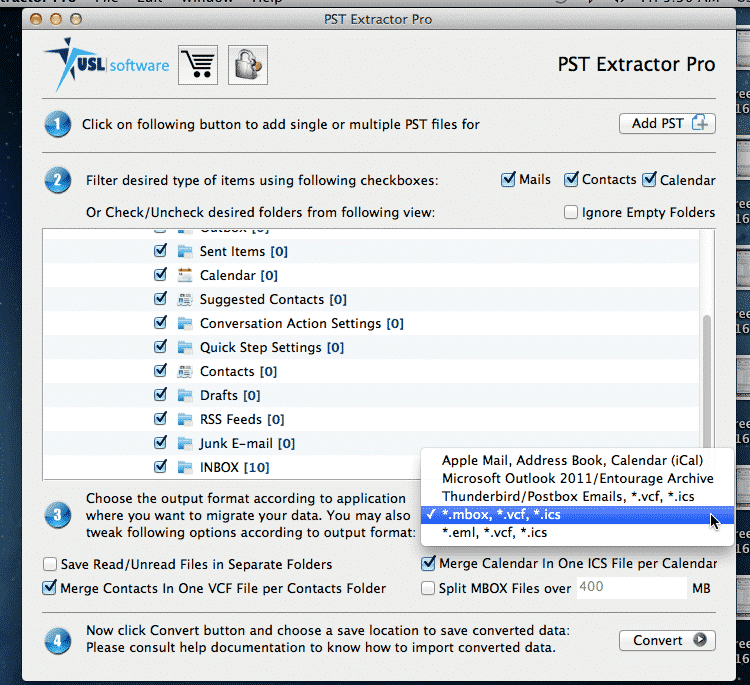 Are you tired of losing your precious email files every time that you convert your PST email data?
If you have lost your email files at some point of time, we realize the inconvenience and pain it causes to go through such a situation where you feel powerless. But with PST Extractor Pro, converting your email files is 100% safe. You can count on PST Extractor Pro completely and relax while our tool takes care of your email files.
With our tool, PST Extractor Pro, you will never have to worry about the safety of your email files. We magnificently provide 100% assurance of no data loss whatsoever.
Do you value your time more than anything else? If yes, the PST Extractor Pro is made just for you.
Time is money and we realize the importance of time. Converting emails used to be a tedious process and now with third party tools, it has become much faster. But there is always the best of everything. We are glad to state that the PST Extractor Pro is not only the safest, but also the fastest tool to safely convert your PST email files.
You can move your Outlook PST emails to multiple email clients in just a few seconds with just a few mouse clicks. This is how fast our software operates.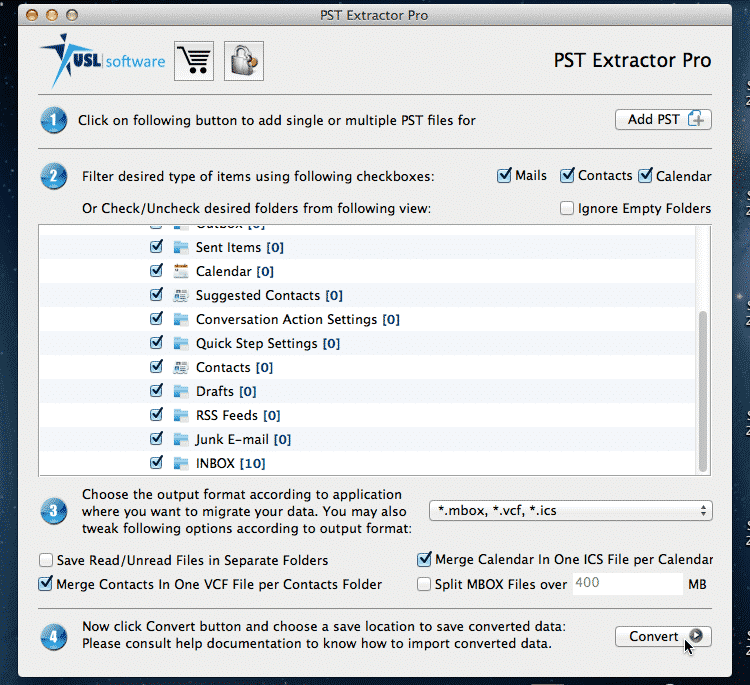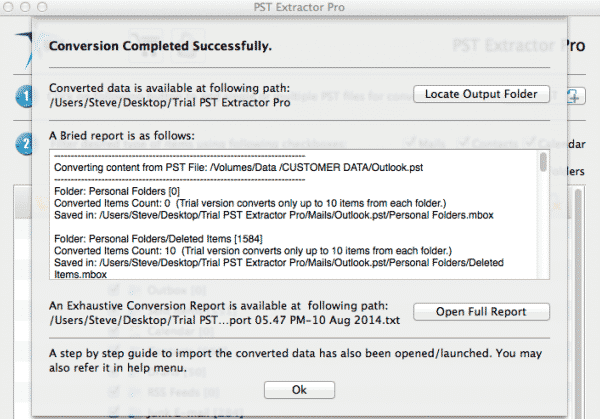 Have you been wondering if you will find a tool on which you can depend with your eyes closed?
PST Extractor Pro is 100% safe to use and reliable when it comes to protecting your personal Outlook windows files. We have ensured the safety of your email files and you can relax and sit back and let our tool do its job with its immaculate performance that you will not have to worry about anything and you can just sit back and relax while our software takes care of your email transfers with immaculate accuracy.
If you are interested in purchasing the best tool to extract PST files with the help of a professionally designed tool, then you must not miss the free trial version of the PST Extractor Pro software.
Try the PST Extractor Pro for free
We have simplified email migration to such a level that you have no reason to not try the free trial version. And why should you even miss it? It's free!
PST Extractor Pro is the only Mac Application for converting PST to MBOX, RGE, EML, Apple Mac Mail, Mozilla Thunderbird, Postbox Mail, MS Entourage Archive including Mails, Contacts and Calendars etc.