A good Thunderbird to Outlook converter has evaded the users for a long time. No proper tool existed that could help them migrate from Thunderbird to Outlook in a professional manner.
Convert Mac & Windows Thunderbird to Outlook for Mac & Windows
Majority of the Thunderbird to PST converters that existed were usually missing a feature or two that rendered such tools not worthy of use. If they powerful and accurate enough, the interface was often cluttered. If the interface was simple, so were the features, limiting the tool's functionality.
This lack of professional solutions to migrating data from Thunderbird to Outlook has been simply disappointing.
But now, the much awaited Thunderbird to PST converters is here that you have been looking for so long. Developed by USL Software, "Mail Extractor Pro" is a Mac utility that features all essential qualities needed to make the conversion effective.
Update: Thunderbird to Outlook / PST features added from Mail Extractor Pro V 1.8.
The tool, Mail Extractor Pro, has features that you never saw in any other traditional tools, but knew were essential to export data successfully, such as – batch conversion, splitting large PST files, non-English text conversion, and so on.
Now Mail Extractor Pro can convert:
Apple Mail to Outlook (PST)
Thunderbird to Outlook (PST)
Postbox to Outlook (PST)
MBOX files to Outlook (PST)
Thunderbird to Outlook Converter
Mail Extractor Pro is making it easier to convert Thunderbird to PST for Microsoft Outlook.
Auto Load: Automatically load your Thunderbird Mail database for conversion.
Open: To located Thunderbird Profile folder for conversion.
Where can I get the profile folder / directory for Thunderbird?
Thunderbird stores emails in a Profile folder on your Windows or Mac. Follow these steps to locate your Thunderbird profile folders / directories.
On Mac OS X:
Open a new "Finder" window on your Mac.
Click on Main Menu > Go > Go to folder. (Or press shortcut Cmd + shift + G). c) A dialog box appears. Type ~/Library/Thunderbird/Profiles for Thunderbird in "Go to folder" dialog and press Enter. It will open your profile folder in a Finder window.
Profile folder contains a folder named ############.default (where the '#' represent random characters). This is your default profile folder.
On Windows:
Select 'Run' – from the Start menu.
Type "%appdata%" (without the quotes).
Hit Enter.
Open the Thunderbird folder.
Go to the Profiles folder.
Now open the folder of your Mozilla Thunderbird profile (probably "########.default" where the '#'s represent random characters) and the folder beneath it.
Everything has been precisely calibrated so as to not leave any missing link that could negatively affect your experience. All the advanced features are framed into its interface methodically so as the advanced users and beginners can equally benefit without limiting the performance or overwhelming them. This fusion of simplicity and sophisticated let the tool stands out from the substantial amount of ordinary Thunderbird to Outlook converter that were available online.
The usability of the tool is enhanced and simplified to make path for a straightforward migration. The GUI comprises of screens that are easy to understand, and all the features within it are self-explanatory. Without looking at tutorial, anyone can follow the steps systematically and end up with professional conversion results.
In a world of email migration, this is as impressive as it gets. It's not a stretch to say that "Mail Extractor Pro" is now the best Thunderbird to Outlook converter of its time.
One truly notable feature that highlights the true potential and power of the tool is:
Auto-load option
Now you don't need to manually look for the Thunderbird files or directories. The advanced logic locked into its framework allows for the tool to automatically load the Thunderbird database from your Mac (if Thunderbird is installed) and gets the data ready for conversion without manual intervention.
This highlighting feature does more than just make it easier for the end users – it raises the accuracy standards much higher. Since the tool directly concentrates on the basic database folders and take input data from the ground-zero, chances of partial migration is non-existent. This allows the tool to strengthen the precision of output files, keeping the integrity reinforced.
The manual selection of Thunderbird database is kept as an optional in case you want to load the backup database or the databases you copied from somewhere else.
Other highlighting features that have come to be known as the signature feature of tools from USL Software are –
Conversion of non-English text (included but not limited to Chinese, Korean, and Japanese languages) without any loss of characters.
Exact duplication of folder hierarchy from input to output. Whatever the structure or order of your folders inside Thunderbird is, "Mail Extractor Pro" sketches it out into PST files precisely.
Splitting of large PST files makes the final step (importing PST into Outlook) easier. Bulky PST files may get annoying to import into Outlook, and the tool allows you to limit their size and split them if the size is crossed during conversion.
The perfect Thunderbird to Outlook converter has been the pipe dream for many users looking to switch their email clients and move data successfully.
Not anymore.
Download the Thunderbird to PST Converter
Download Link: https://www.uslsoftware.com/download/mail-extractor-pro/
Download the free trial version of Mail Extractor Pro and check out everything in more detail.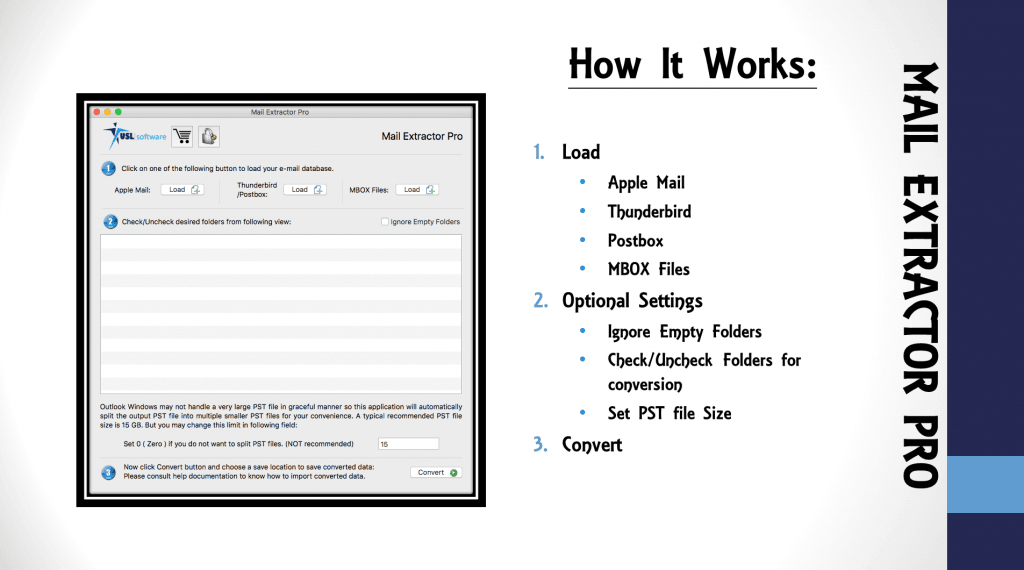 If you are looking for Mac Thunderbird to Outlook converter or Windows Thunderbird to PST Converter, then must try Mail Extractor Pro.