How to Stop Thunderbird from Redownloading all Emails from The Servers Again and Again.
Methods – How to Stop Thunderbird from Redownloading all emails
There's a weird glitch that frequently happens with many users when Thunderbird keeps downloading all your emails again and again. It happens with the POP3 email account, not with IMAP because of their inherent differences.
IMAP downloads emails from servers while keeping the items secured on servers too. It is basically a syncing protocol that keeps your local database and server database in sync. Whatever changes you make in IMAP account gets synced in both directions. POP on the other hand just downloads the data from the servers to a local database, in this case, to a Thunderbird's local database directory.
So, what happens most of the times is that Thunderbird, for some reason, thinks that it has never downloaded the data from the servers. So, it starts downloading. But after a day or two, it repeats the process again. It could be happening with you too. But don't worry, here are few methods you can try to solve this issue:
#1: Delete popstate.dat file
It's a file Thunderbird uses to store the information about downloaded messages from the servers in POP account. It stores other information that Thunderbird requires to download data from servers. Like downloading only headers, leave emails on servers or delete them, recover deleted messages from the servers and download them locally, and so on.
If this file is corrupt, you can imagine the problems client can face to get data.
This is one of the most common causes for Thunderbird to redownload your emails from the servers again and again. Because the information in popstate.dat file is corrupt and Thunderbird doesn't know that it has already downloaded.
Deleting this file will make Thunderbird lose all records of messages that has downloaded. But if the file is corrupt, it's a good way to "reset". Thunderbird will download all the data again. But since a new file is created which is not corrupt, you hopefully don't have to face redownloading again.
Here you can find this file:
Account Settings -> Go to the account that is facing the problem and click on "server settings" -> find the local directory and check the location of popstate.dat file. Then simply go to that location using Windows explorer and delete it.
#2: Delete inbox.msf file
Inbox.msf file is where your primary inbox data is saved. This file is often deleted manually by users if Thunderbird is not displaying the contents of inbox correctly. But due to the corruption of this file, you may also face the problem of redownloading data again and again. By deleting inbox.msf, you lose the downloaded emails in that folder. And when you launch Thunderbird again, the file will create automatically from scratch.
Note that this will only apply to the "Inbox" folder, not all other folders in your mailbox.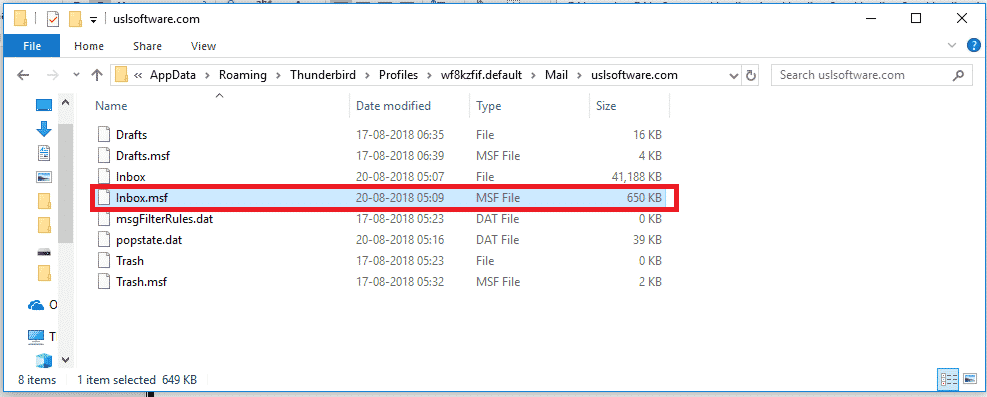 #3: Make "cleaning" apps avoid targeting Thunderbird
Apps like CCleaner or other which cleans the unnecessary files from your computer (like Cache or temp files or broken registeries) can also affect Thunderbird. You can add an exclusion in your cleaning apps, like CCleaner, to not target Thunderbird and any of its related files. Because what happens in many cases is that the app might delete a file that's important for the client to function normally. A slight unwanted change in those files can throw it off and start behaving abnormally. Avoid that and let Thunderbird handle cleaning any unnecessary files on its own.
If none of these methods work, the last resort is to reinstall Thunderbird. In almost all cases, reinstalling Thunderbird from scratch gets rid of any conflicting files or information and resets the behavior of the client correctly.