Here is the Best Way to Import MBOX File to Outlook Mac 2019 / 2016 / 2011!
The MBOX files
MBOX file is a generic file used by many clients and other software services. It is used by Apple Mail, Thunderbird, Entourage, and even Google allows downloading data in MBOX file. That makes it a file suitable for data migration across various services.
But there is one widely used, popular emailing software that does not detect MBOX format. It cannot import MBOX nor can it export data in MBOX. We are talking about Outlook Mac 2019 / 2016 / 2011. It is also not compatible with Windows version of Outlook, but for this article, we are only focusing on the Mac variant.
Import MBOX file to Outlook Mac 2019/ 2016 / 2011
So, if you are looking to import MBOX file to Outlook Mac 2019 / 2016 / 2011 without any workaround, you will be disappointed. It is technically not feasible to do so.
However, do not lose hope just yet. There are few solutions you can find that may work for you. One of them most viable is converting MBOX file into OLM format, where OLM is the native file for Outlook Mac 2019 / 2016 / 2011. And the other one is to convert it into PST, where PST natively works on Windows Outlook, but also compatible for importing data into Mac version.
Though, there are dozens of converters to make this happen, it is hard to find the best one that will meet your demands properly. For example, a subpar MBOX to PST or OLM converter does not correctly support intricate information like Unicode headers or MIME headers, or Unicode email addresses, or graphics, or large attachment files, and so on. These losses of items from output files is called data integrity error and is one of the worst concerns during any email migration tasks.
Without further ado, let us talk about what actually works perfectly without any annoyances like that.
App to Import MBOX to Outlook Mac
"Mail Extractor Pro" is a brilliant answer to all those sloppy and incomplete software tools available today. Built by USL Software, it has all the essentials for a successful and safe data migration. The sophisticated scrips used to process data ensure clean conversion without missing any items. All data integrity errors and gaps are entirely eliminated by this tool.
One of the best features it has to offer is also its simplest: interface.
With a terrible interface, even a tool with advanced features can seem hollow and impractical. Thankfully, with "Mail Extractor Pro," you get best of both worlds: a simple and friendly interface but functional and powerful features.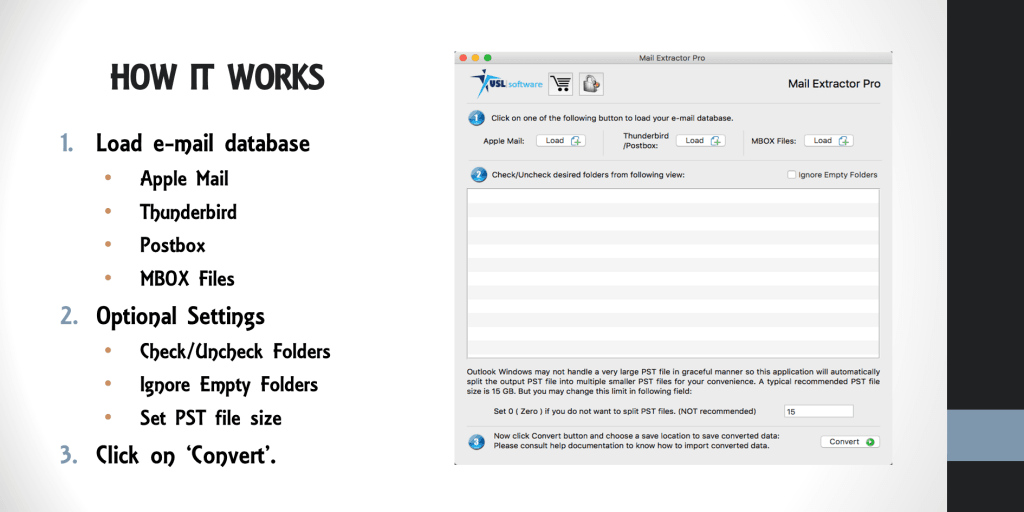 The single-screen wizard simplifies the process even for a very basic home user without any experience. You just launch it and start converting files. No prior experience or knowledge necessary.
This gives you a streamline experience of importing or converting MBOX files into Outlook Mac 2019 / 2016 / 2011 PST files, which is an otherwise not so straightforward process.
Other notable additions to its overall set of features include: splitting of large PST files, detailed conversion log with all the necessary statistics and report, and a manual way to remove unnecessary folders you do not want to convert.
USL Software backs it up with an exceptional support available all the time. Any questions or problems you face, the team will instantly resolve them for you.
Try free to Import MBOX file to Outlook Mac 2019 / 2016 / 2013
Try a demo edition first to see it in action. The trial version works for ten items per folder per MBOX file and gives you a genuine approach to assess the tool's worth in your own terms.
Download Now at https://www.uslsoftware.com/download/mail-extractor-pro/
Mail Extractor Pro is known for its fast, safe and accurate conversion. To import MBOX file to Outlook Mac 2019 / 2016 / 2011 and Windows Outlook 2019 / 2016 / 2013 / 2016 / 2010 / 2003, get it today for no hassle email conversion.