Mac Mail Export Mailbox to PST (Outlook) Converter with a Game-Changer Feature!
Mac Mail Export Mailbox to PST Converter
Looking Mac Mail Export Mailbox to PST (Outlook) converter? Look no further. 'Mail Extractor Pro' provides all that you need to make the conversion flawless and quick. It is also very lightweight with a basic interface for beginners.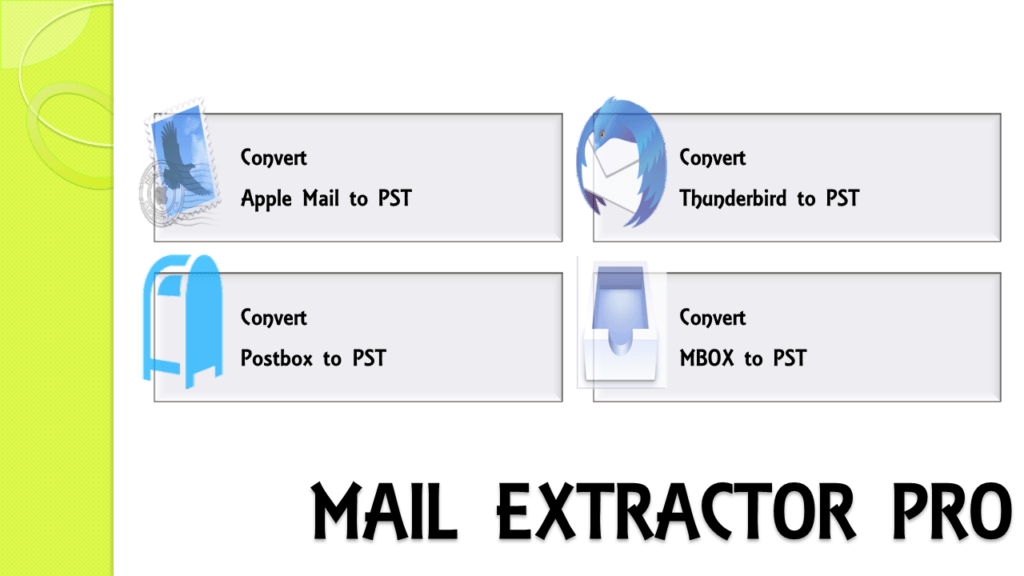 But the tool does not make any trade-offs with the advanced features many of you might require.
Convert Mac Mail Export Mailbox to PST With Ease
Let us take an extensive look at this exceptional program from USL Software that not only changes the scene around Mac Mail Export Mailbox to PST (Outlook) but also around other email migration goals, as we will see below.
Lightweight & Ease
The first and foremost feature that many users love is the lightweight nature. It can handle large MBOX files with ease and never crash or freeze. The tool itself takes very less CPU resources, almost minimal and has no effect on your Mac machine. The time taken to convert even the large and multiple Mac Mail Export Mailbox to PST (Outlook) is nothing short of revolutionary. Where an ordinary Apple Mail to Outlook converter might take half an hour for 1 GB file, this one takes less than ten minutes.
The innovative data-flow algorithms act efficiently and deliver frictionless experience. There are no interruptions or gaps during the data processing.
Simple & Accurate
Secondly, it has an equally amazing interface. No need to understand what the files mean and what is the technical nature of the email migration. The UI works for everyone; point and click and you will be set. The UI was designed specifically keeping the most basic user in mind who has nothing to do with the tech-side of such tasks.
Safe & Secure
Thirdly, if you want to convert Mac Mail Export Mailbox to PST (Outlook) files, the tool gives plenty of options and power to do just that. Keep in mind that MBOX is not technically or natively a Mac Mail data file, but you can choose to archive the data to MBOX. Moreover, MBOX files is also used with other clients, programs, or services. One popular example is Google takeout, a service that allows you to download data to a local file for archiving, like Gmail emails to MBOX.
Mac Mail Export Mailbox to Outlook Conversion In Safe Way.
However, if your main goal is not to convert Mac Mail Export Mailbox to PST (Outlook), but rather to migrate Mac Mail folders to Outlook, the tool features a modern and unique ability to track down the primary database (called 'Profile') and convert every byte of information straight from there, leaving behind the slow and tedious approach of using MBOX.
Not only does it make your target of migrating data quicker but also improves the accuracy of output to perfection. 100% of information stored in Mac Mail database gets processed into clean and new Outlook PST files, except the details and data about the settings of your Mac Mail (which don't matter anyway if you are moving to Outlook).
Get it convert Mac Mail Export Mailbox to Outlook
If you are interested, you can start with a free trial edition downloadable here with an instant link of *.dmg file (no signup or anything). Install and fire it up. The whole thing will take less than two minutes and you will get to see how the program functions from up-close.
It is a Mac-based software program that requires only 10.6 OS version or higher and nothing else.
Despite its power and advanced functionality, the tool is incredibly fast, smooth, and lightweight to use.Drop an email or text via chat to the always available support team to clear up any queries. The technical support is also readily available to give you a hand during conversion if you ever find yourself requiring an experts' assistance.