OST to PST Converter Free Tool or Paid? Find All Your Questions Answered.
OST to PST Converter free Vs Pro
Looking for an OST to PST Converter free tool to convert these Outlook data files correctly and quickly? You need to know few essential things before diving into it. There are several categories that such a converter can fall into, both free and paid. And every one of them have their own set of benefits and flaws. It is not a simple data migration solution. You can't carelessly go into it without knowing what we will be talking about below.
But first, you should really know what these files are and how they interact with Outlook, users, and with each other.
Outlook, OST, and PST files!
Outlook is an email client now available for both Mac and Windows operating systems. This post is concerned only about Outlook Windows because both OST and PST are native files for Windows version. Although you can also use the PST files with Mac Outlook but just for importing.
Outlook, just like any other client, stores data (emails, contacts, and other items) locally after downloading them from the email servers. OST and PST are for that purpose but have different functions within the same purpose. OST allows users to access data even offline and is an internal data file for Outlook. PST, on the other hand, is a more personal file that can be used by users manually for many different purposes, including import, export, and conversion.
So, Why Convert OST to PST?
If you are reading this post, you probably know why convert OST to PST files, as you are looking for a free tool to do that. But still here's a short introduction to what this conversion is about and why it is required, as a recap.
Since OST cannot be used with Outlook manually like for importing, but PST can be. If there ever is a situation that your data is inside OST files but there is some problem with the sync function or Outlook can't interact with it, the only option you have left is to convert them to PST.
This corruption or inaccessibility can happen in dozens of ways, sadly. A virus attack, network and sync errors, hard disk failure, and such incidents can really create problems with your OST files and Outlook in itself. But the most common reason why users look for OST to PST converter is when they create a new profile or when the original email account that was associated with the OST file in the first place is deleted.
All such incidences can leave you with OST files with important data inside them. There is no way to get them back to Outlook.
Except…by converting them to PST.
How to Convert OST to PST?
OST to PST conversion cannot be done manually or through any in-built feature of Outlook. In fact, OST file is not built for such operations. It's data structure internally and the data-tables used for information storage don't allow extraction and rebuilding of elements.
But since the event of OST corruption is so common that many third-party developers have come up with their own solution to convert them to PST.
There are many different types of OST to PST converter tools:
Online tools or web-based tools that can be accessed directly through a web browser and doesn't even require installing anything on your computer. Everything happens on the servers where the conversion program is hosted.
OST to PST Converter free tools offered by few companies. They have at least one positive and enticing aspect – that they are free. But as we will see below, they have nothing else to offer. They can even be worse and may cost you dearly.
OST to PST converter professional tools built by experts and experienced developers. They ensure the complexities of such a process is dealt carefully.
Let's quickly summarize the problems with these three methods:
The first one is obviously targeted towards conversion projects that are limited to just one or two folders. OST to PST conversion is complex because of the differences in the files and how the data is structured. Performing that process online, web-based, cannot be precise or quick as users would want. It often leads to gaps in data, also called data integrity errors.
Secondly, the free solution is often not up to the standard as you'd expect. Clearly, they are free so that's a plus, but anything else is a negative. Free tools are rarely free if you look deeper; they have ads, no tech support, contains bloatware (unwanted programs) attached with them, and can be risky. Especially if they are coming from unknown sources. OST to PST Converter free tools can be enticing on the surface but you just have to look deeper. You will realize they are the ones that come with high cost, compromising your data safety, time, and efforts.
Lastly, we have the professional OST to PST converter, which is best by definition. But to find such a tool that can be labeled as professional is hard.
Do not worry. That's where we come in. The last section of this post will discuss one such conversion tool that will safely and quickly convert data from OST to PST files in a manner that you want.
It is known as "OST Extractor Pro", and is offered by USL Software.
"OST Extractor Pro" – What is it and how it works?
"OST Extractor Pro" is an OST to PST converter tool, available to download in either Mac or Windows version, whichever you prefer.
One of its features is that it can convert OST to other formats too, not just PST, like MBOX and EML. If you want to convert OST to those formats, or if you want PST files to import to Mac Outlook, of course, it would be better to get the Mac version. Otherwise, get a Windows version.
USL Software has worked on the algorithms, the main aspect of a conversion utility, to perfection. Every algorithm that detect information and extracts it. And it rebuilds from OST to PST is precise and dedicated to give 100% accuracy. From images to attachments to nested emails to other tricky components of an email database will be safely converted without any loss to data integrity.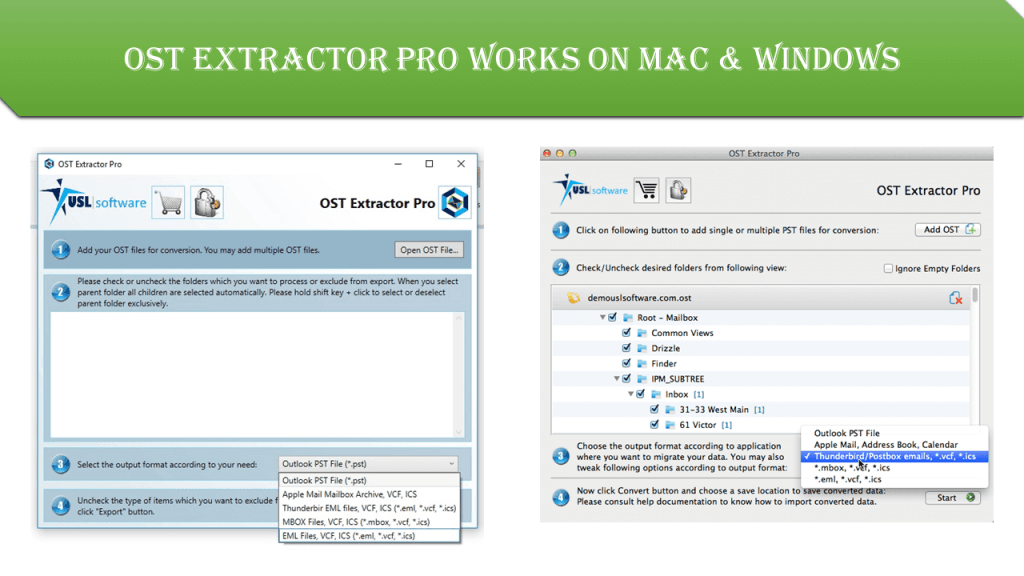 Lastly, it has a simple UI. Doesn't matter if you are an expert or a beginner, you can install the tool right now and get started without having any background information about the process. And the tech support of USL Software is the final link in making this entire software package professional and effective. You may need to ever ask for their help, but if you do, expect to get a response quickly and to get your problems resolved efficiently. The team is quick to respond and is built of experts on email migration.
Some final thoughts:
OST to PST conversion is seldom a pleasant task. It always comes out of some unfortunate or unwanted events (corruption, accidentally deleting email account, Outlook sync errors, rebuilding profile, etc.). That makes it very important to get a professional solution. Unless you want to go down the path of more data corruption or integrity loss by trying out OST to PST converter free tools. Keep in mind that free tools can cost you more in long term. Possibilities are like missing out on important data elements, too slow processing (loss in productivity), and other flaws that are not worth your time.
OST to PST Converter Free Trial
If you want to convert OST to PST smartly and if you care about data integrity, get a professional converter tool. And there's nothing better than "OST Extractor Pro".
You can find a trial version on their official page (link given here).
Choose a professional ost to pst converter, if you care about your valuable email data.