Wants to find out what is the quickest, simplest, and yet most accurate way of converting Postbox to Outlook PST?
You came to the right place.
Convert Postbox to Outlook PST
Mail Extractor Pro is exactly what you have been looking for. It offers a radical new ways of data migration for Postbox (and other data sources) to Outlook native PST format. It is essentially just about a few clicks and gets the job done exceptionally well, especially in terms of retaining the original information and not letting the structure alter in any way.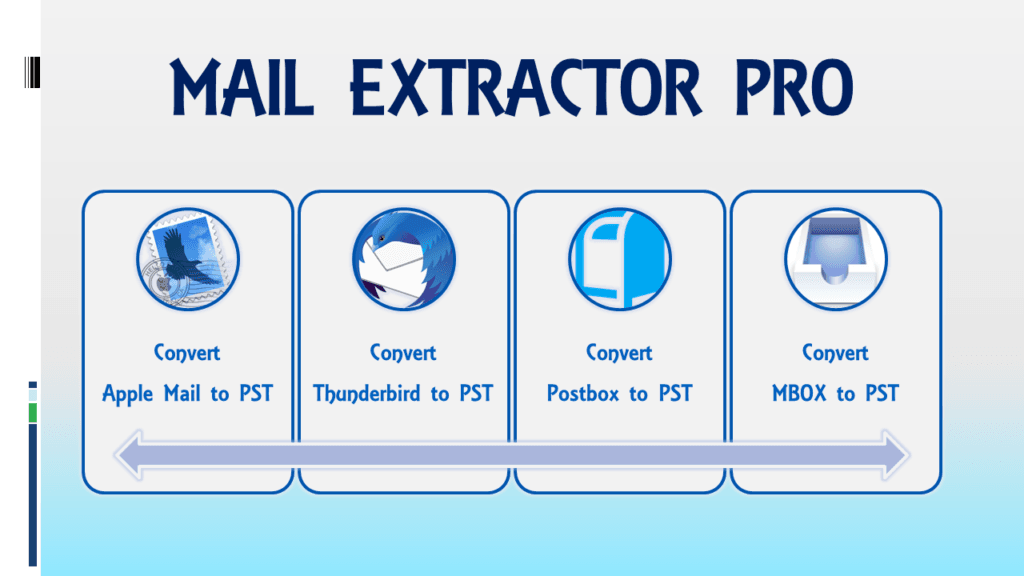 It works like this:
Choose auto load (under Postbox)
let the tool pick your Postbox database automatically
Choose folders you want to convert (or de-select ones you don't)
Choose PST split size (the tool will not let any output PST become larger than you specify)
Click convert.
If you put this method face to face other generic solutions, you will realize how big a turning point this can be in domain of Postbox migration.
Both beginners and IT users will find that Mail Extractor Pro has everything that is needed to handle basic and advanced migration tasks.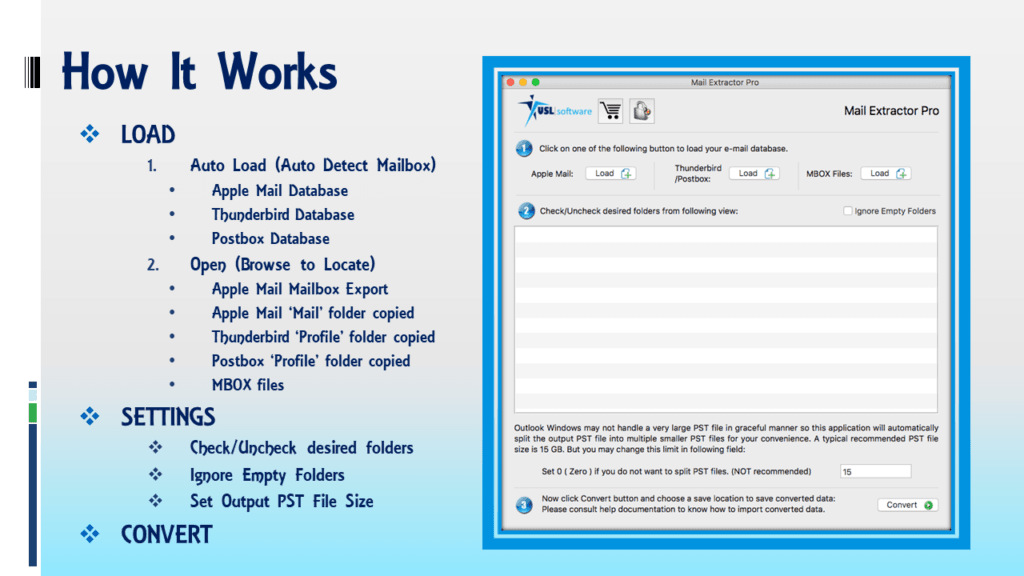 The Features
The power features you get are truly exceptional and supersede any other software solution out there:
clean processing of all text in any language under the Unicode universal standard
Mapping of folders from Postbox to Outlook PST without losing the structure.
Retains the read/unread statuses of emails.
Highly precise execution while converting data, make the tool able to retain information like attachments, headers, graphical components, nested emails, text formatting, HTML links, cloud-based files, and more.
Option to keep PST files in check and split if they become too large.
Detailed and brief conversion log for smarter analysis of the process (if you have a large Postbox database, you will love this).
Smart UI layout and design to make the job clear-cut from initial step to the finishing line, suitable to all levels of users and projects
No dependency. Completely standalone. Does not require internet connection to work.
Performs clean conversion in a fast speed without trade-offs (like lack of stability, missing components, or other errors)
Also converts Apple Mail, Thunderbird, and standard MBOX files to Outlook PST.
24 x 7 live chat or support via email.
Mail Extractor Pro is not merely improving upon the other existing software and methods, but rather brings a whole new way of doing and looking at Postbox to PST migration. With the host of features it offers, it is almost surprising that it does not overwhelm the new and inexperienced users due to the smartly design UI system.
Free Trial to Convert Postbox to Outlook PST
The demo edition is now available to download instantly without filling any forms or signing up for anything. The link is given below. You can download the installer file, install, and get started in essentially under two minutes…and experience it yourself.
Activating it later to the full version is simple and quick. Just pick the license that suits you.
Get it today to convert Mac Mail, Mozilla Thunderbird, MBOX to PST as well as Postbox to Outlook PST.