Want to import Mac Mail to Outlook 365? Here's all the info and help you will ever need. Forget about whatever you know about email migration for this job. Any previously exiting methods or tools have been quite unsatisfactory both home users and IT advanced users. Here's the ultimate solution you will ever need, regardless of where you have to migrate data, in home or in your work place.
But first some basic points to get across.
Outlook 365 is a part of Office 365 apps and subscriptions offered by Microsoft for both Mac and Windows. When you subscribe to 365 plans, you get a year of Office suite apps that you can use both in Mac and Windows. But for this article, we are going to be focusing on Windows Outlook. Whether you have purchased the standalone Outlook app or subscribed to 365 plans for the complete office suite, it makes no difference in the below mentioned approach to data migration.
What makes the email migration such an infamous project?
The data files of Mac Outlook and Windows Outlook are MBOX and PST respectively. You cannot import MBOX to Windows Outlook, and thus it creates a conflict while importing data. Some email clients can support a similar format for reading data (like Thunderbird and Apple Mail supports MBOX files), but not all. Windows Outlook employs a PST format, Microsoft's own proprietary file format for backing up or archiving data. Other than PST, any other format will be unreadable.
So, that drove many developers into making tools that can convert MBOX to PST format. And for some technical challenges, converting a Mac compatible file into Windows compatible file, most of the tools are Windows based. If you will Google Mac MBOX to PST converters, you will get nothing in return.
Using Windows based apps is fine for some users because essentially they are moving to Windows environment if they are looking to convert their data. But many other users wish to do this project in Mac because that's what they have been using for many years, even though they are switching to Windows now.
Also, some users are looking for this migration project not because they are switching the client, but they want a large chunk of their Mac Outlook to share with Windows users. So, it is very frustrating for them to look for a Windows PC first to convert the data.
In short, there are no Mac tools for MBOX to PST conversion.
Even that would be fine. But the Windows tools are also not up to the standards of the emails clients that involved. Users have certain expectations when they are coming from world-class email programs like Mac Mail and Outlook. And when the email migration tools don't meet that expectation, it can be frustrating and difficult to do what they want. Most of these converters have an abysmal interfaces and really inefficient algorithms for data extraction.
Import Mac Mail to Outlook 365
That brings us to the question – how then can one import Mac Mail to Outlook 365 without enduring all the craziness and chaos of Windows based tools?
The answer is simple.
Use "Mail Extractor Pro," developed by a world-leading email migration company, USL Software. This is a tool that works in Mac, offers intuitive interface, full protection for your data against any sort of data loss threats, and plenty of functions that make it productive and flexible for the end users to export data without any issues.
It helps you to import Mac Mail to Outlook 365, by converting Mac Mail data into PST (*.pst file) for both Windows and Mac Outlook.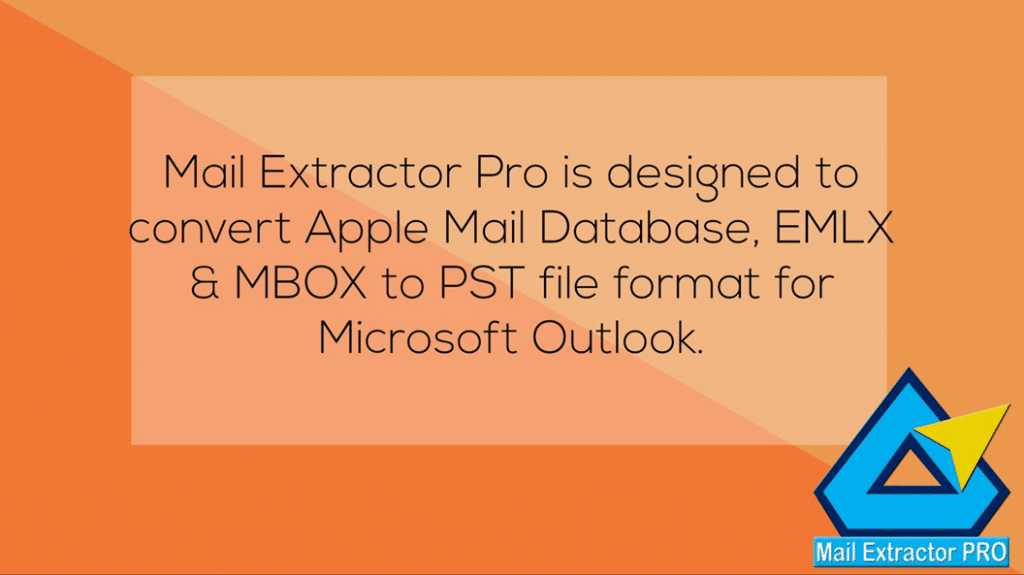 And most important of all, it also features a linear conversion wizard that doesn't need OLM files and instead directly targets the Mac Mail identity database. By getting rid of an unnecessary middle step, you get even easier and accurate system for importing data.
Get free trial
The best thing to do right now is head over to the download page of the tool and get the free trial mode. This will give you a better idea of its functions and how it works in action. This trial mode is allowed to convert ten items from each folder without disabling any other function. So, you can get a thorough inspection of its potential without risking anything.
How it works
Download and install the 'Mail Extractor Pro' on Mac system.
Open and click on "LOAD" button next to Apple Mail.
You will get two option
Auto Load
Open
Check optional settings and then click on "Convert".
In this way you can convert the Mac Mail data into PST file formats. The converted file can be imported into both Win & Mac Outlook. So now you can easily import Mac Mail to Outlook 365, by converting the data.
Get it now! to import Mac Mail to Outlook 365 and other Outlook Version for Mac & Windows.