How to convert Apple Mail to EML? Here is the best approach to convert your Apple Mail database to other file formats.
Convert Apple Mail to EML
Most methods of converting Apple Mail to EML require data files to be manually selected by the user. With Apple Mail, you either need EMLX files (the basic and native files used by Mac Mail) or MBOX files (the generic data file you can archive your data into).
But converting EMLX or MBOX files to EML is too cumbersome…and unnecessary.
For EMLX files, you need to dig into your profile folder and load the EMLX files from there. Most accurate converters require you to convert one or few EMLX files at a time. It's self-evident here that that system of conversion is highly counter-productive. You can lose hours on end and yet not get precise results.
For MBOX files, you need to go through whole another system to first archive Apple Mail data to standard MBOX files. Doing so is totally another nightmare to witness. Because, keep in mind, Apple Mail doesn't use standard MBOX format but .mbox packages that cannot be converted by third-party tools.
That's when "Mail Extractor Max" comes in. It allows direct conversion of Apple Mail profile folder where all the files are naturally stored by the client. You can also choose the backup folder but there's no need to get any files manually.
Here's a simple tutorial on how to convert Apple Mail to EML files without getting involved in raw data files yourself:
How to Convert Apple Mail to EML
Step 1 is obvious: start by downloading the tool. You can get the free trial version if you want to see how it works and what are all the features. It would be enough for you to fully evaluate it and for you to go through this tutorial in its entirety.
Then install and launch and follow the steps below.
Step 2: Click on "Load" (on the top right corner of the tool). You will get two options:
Let the tool autoload data from your primary Apple Mail database (profile)
Or, choose a backup database copy from any other location
All the folders from your chosen database will be selected and shown to you. You are free to "uncheck" any folders that you don't want to convert to EML. Also, you can click on "ignore empty folders" to avoid getting any empty folder into output EML files, if you wish so.
Step 3: Choose the output format from the list of options. Click on the output dropdown menu and select *.eml. Note that the tool can convert Apple Mail database to other formats too, such as Outlook Mac 2011, Entourage, Thunderbird, Postbox, and even standard MBOX files.
Step 4: Click "Convert" and choose your desired location to save the converted EML Files.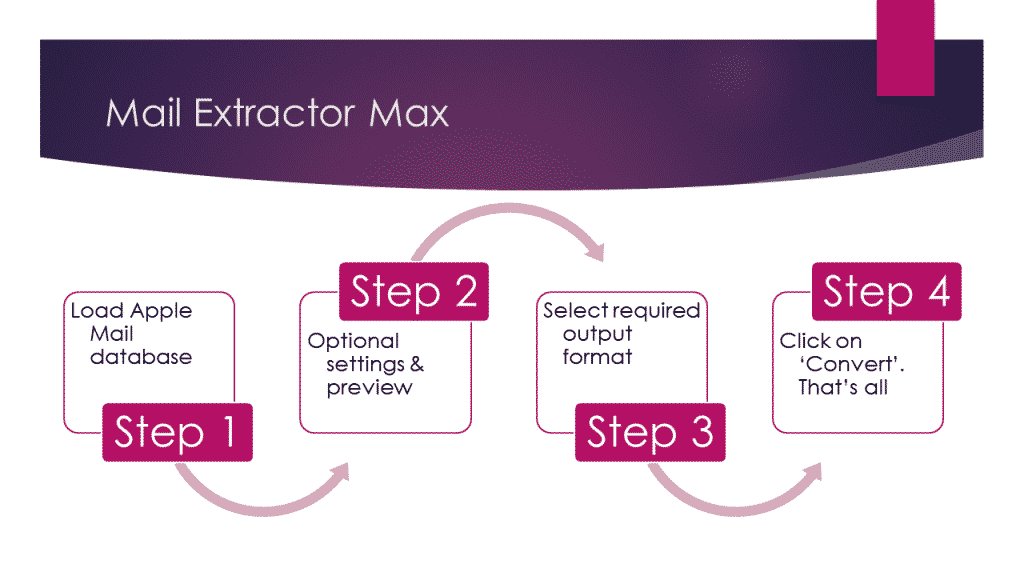 Convert Apple Mail to EML – Exact Conversion
The conversion process will begin and you can see the progress in the progress bar. Wait for it to be over. When finished, you can click on "Locate output folder" to directly go to the output folder where EML files are stored. Copy them to any location if you want or import them to Windows Live Mail or any other client that you wish to migrate the data to.
This method, offered by "Mail Extractor Max" is the simplest of all. In simple 4 steps, you can finish converting Apple Mail to EML files, which otherwise takes innumerable amount of time.
The best part? "Mail Extractor Max" handles all your information within the database carefully. No element is ever missed or not converted with correct details. This data integrity preservation makes it the most accurate conversion utility available today. It has dedicated support for converting otherwise problematic parts of your data, such as, text in Unicode standard (non-English), the arrangement of your folders, any embedded or attached graphical section of your emails, nested email messages, MIME content (Unicode headers, non-media files, and so on), and email attachments.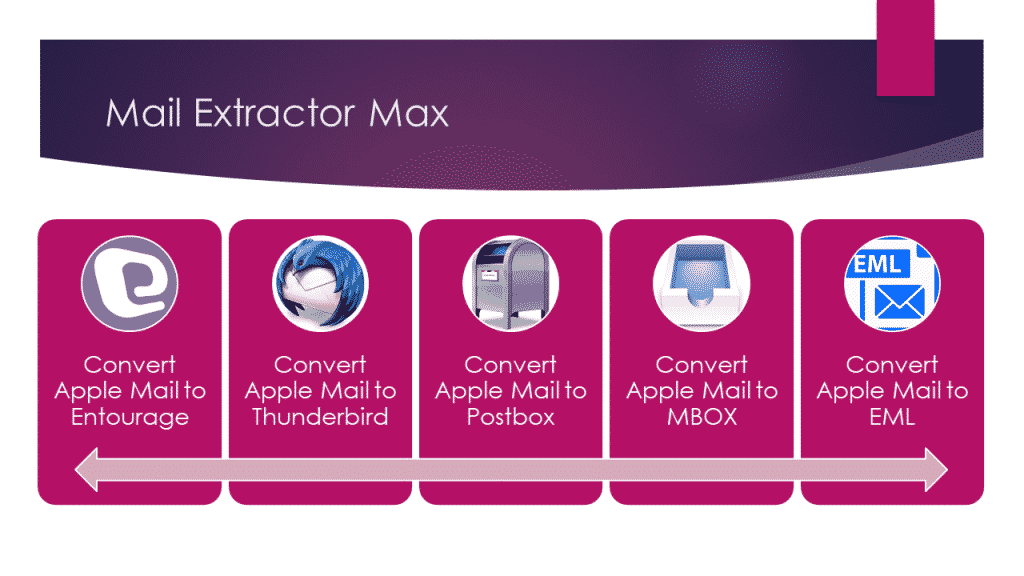 System Requirements
The requirements for using 'Mail Extractor Max' is Mac OS 10.6 or higher…and that's almost it! There are other usual requirements that every other program requires (like administrative privileges and mandatory space to install the program). It is a light-weight utility (regardless of its power, accuracy, and functionality) that you can run on any Mac machine.
And if at any time, you need a helping hand, the tech support of USL Software (the company behind "Mail Extractor Max") is always available.
Download to convert Apple Mail to EML
If you are ready to give it a try, download the setup file here.
It's small in size and you can install in a minute. The tool will run on a free trial mode by default, converting ten items per folder within your selected Apple Mail database, giving you the access to all of its features unrestrained.