Migrate Mac Mail to Windows Thunderbird with safe, accurate and without losing any data, Read it to know more.
Mac Mail and Thunderbird
Mac Mail and Thunderbird need no introduction. Two of the most celebrated email clients for MacOS users.
But that does not leave out the migration between them to be the same. Both can use MBOX files but to be able to migrate the file could be shockingly taxing and tiring.
Also note that there are no MBOX files in Mail database by default. It now uses the EMLX file per email (attachments are further stored in EMLXPART files). This means that to be able to migrate Mac Mail to Windows Thunderbird using MBOX, you will need to go through additional steps.
There are countless tutorials on how to get this done on your own without any help of dedicated tools. But that would lead you down the path of destructively bad outcome, like loss of data or at least, losing the integrity of the files. That is the trap laid out by seemingly valid manual methods.
To sum it up: you should avoid them at all costs.
To be fair, if you have one or two folders, you can try it. But then again, there are few cases in practice that requires such a small scale migration. The reality is that you might have over several gigabytes of data in Mac Mail that you need in Thunderbird while preserving every item and its relative location in the database.
That still leaves you with a parlaying decision to be made: which software tool to get.
Tool to convert Mac Mail to Windows Thunderbird
Let us skip the introduction to the general converters and their flaws, and rather move on to the best one you can get today and try it for free: "Mail Extractor Max".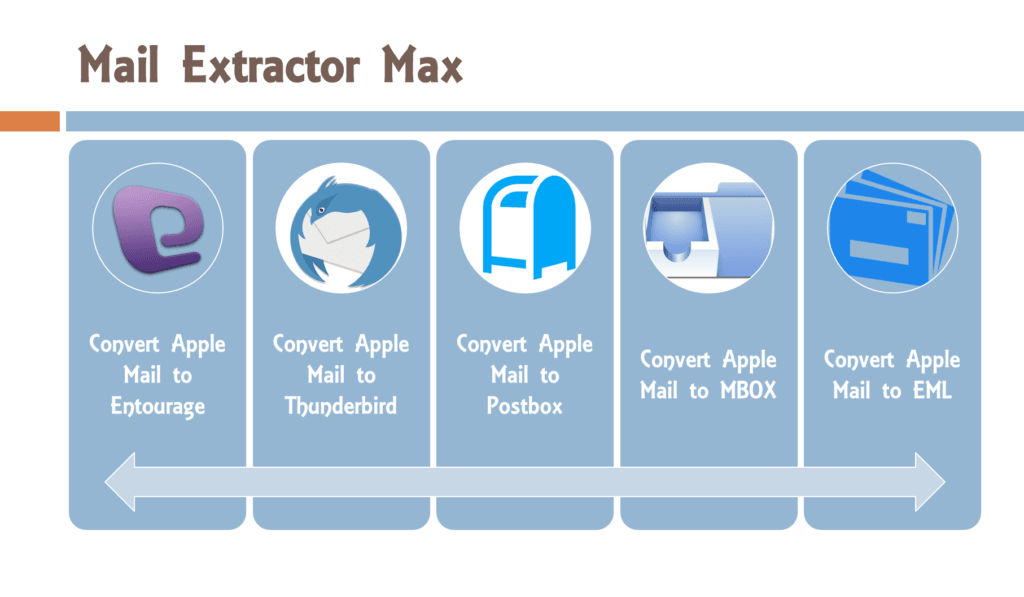 There are myriads of reasons we ask you to take this route. Some include: friendly interface, fast speed, tech support, and Mac compatibility.
But if you had to choose one, that would be easily be the option to get the database directly from profile/identity and skip the more fussy method that requires MBOX or EMLX files.
The common way a generic tool works is by extracting contents from MBOX or EMLX files. And you need to get these files and then load them up along with dozens other unnecessary stages and steps.
With this USL Software designed tool, you get to dodge that bullet.
It makes the entire act not merely quicker but also precise and exhaustive. It makes sense to find this approach more cleaner and precise when you realize that it works by eliminating most manual steps and instead operates on the source straight away.

No fussing around with files.
There are many required options given to you:
Auto-load the primary and default 'Mail' folder on your Mac.
Choose another "Mail" folder from a backup location.
Choose "Apple Mail Mailbox Export" saved earlier.
As you can see, it gives you much freedom in how you want to select the database you want to move Mac Mail to Thunderbird.
The output files of Thunderbird are also the native 'Database' profile folder you can very easily import. For output, you have options as well, such as converting Apple Mail to MBOX, which is again supported by Thunderbird. But we suggest selecting the native and default 'Thunderbird' option for more convenience and precision.
It is time to shed the old ways and adopt more modern, effective, and professional means of data migration.
Free Trial to Migrate Mac Mail to Windows Thunderbird
Mail Extractor Max is a MacOS based software application by USL Software. You can pick from three difference licensing/pricing options: Standard, Small-scale, and Enterprise.
Download at https://www.uslsoftware.com/download/mail-extractor-max/
Get it today to migrate Mac Mail to Windows Thunderbird or Mac Thunderbird.